NOTICE: This prophecy is specifically against THE STATE OF WASHINGTON and It's acting Government Officials, and all acting Officials within Washington State. This prophecy is also against any religious leaders who are ashamed, or refuse to: pray in public, mention Jesus in public (outside the Church), and who simply refer people to secular mental health / psychologists, rather then pointing them to Jesus Christ. This prophecy is against Christians who choose to do nothing, when God asks them to act; Christians who ignore serious crimes like sexual assault, murder, drug sales, and Government Corruption. The following are the words of the Lord, and the record proving that these prophecies were made prior to them taking place, filed with THE STATE OF WASHINGTON, and notices uploaded and posted on YouTube as well. If you have sinned against Jesus Christ, you must ask Jesus to help you repent, and seek God, and believe in Him with your heart, and confess Jesus is Lord; in order to avoid further Judgement and Wrath. Some Judgement comes from God, and other Judgement is simply the natural occurrences caused by your poor choices, and the poor choices of others. The Lord will pour out His wrath on your Children as well: "I, the Lord your God, am a jealous God, punishing the children for the sin of the parents to the third and fourth generation of those who hate me, but showing love to a thousand generations of those who love me and keep my commandments." Exodus 20:5b-6 NIV

PROPHECY VIDEO: What God Has Done in Washington State Documentary Film & Orlando Florida LGBT Shooting Predicted.



The Nice France Terror Attack was Prophecied in advance !!!



WILL SMITH PROPHECY COMES TRUE !!! I had a dream about Will Smith on July 27th/28th. On the Jimmy Fallon Late Show, and on August 8th 2016; WILL SMITH made this prophetic dream come true, by burning his face / getting egg on his face (making a fool of himself).


Also a man namde "Mike Burke" died, right after God had me tell a deputy, that someone would die from dugs if they didn't intervine. I also spoke with the woman where he died right before saying the same thing.

REMEMBER !!! God holds the keys to LIFE and DEATH. If you turn to Him, He can give you life instead of death and judgement.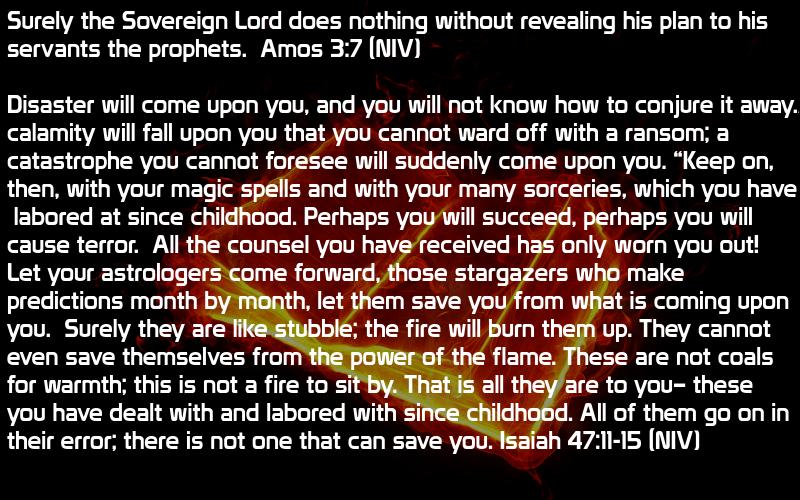 In 2014 And 2015 I predicted and prophesied that these disasters would come upon the STATE OF WASHINGTON. In 2015 THE STATE OF WASHINGTON had Wildfires like have never been seen before in THE STATE OF WASHINGTON (Surely they are like stubble; the fire will burn them up. They cannot even save themselves from the power of the flame. Isaiah 47:14) , A mass power outage across the state left people without warmth (These are not coals for warmth; this is not a fire to sit by. Isaiah 47:14) and prior to this there was warm weather, and suddenly after the power went out, temperatures plummeted without warning, and then came a flood. (a catastrophe you cannot foresee will suddenly come upon you. Isaiah 47:11) Governor Jay Inslee requested help from the FEDERAL GOVERNMENT, but they denied him aid. (these you have dealt with and labored with since childhood. All of them go on in their error; there is not one that can save you. Isaiah 47:15)

I filed these prophecies with THE STATE OF WASHINGTON in 2014, and continued Prophesying in 2015.

Fire is coming: https://www.youtube.com/watch?v=0SMlc06pcqM Published Feb 15th 2015

Last Call, WildFire Warning: https://www.youtube.com/watch?v=J2vPOXy8r9A May 28, 2015 12:00 AM

Power Outage and Cold Weather Prediction, as well as Storms: https://www.youtube.com/watch?v=WOLRxQPNd54 Published: Sep 15, 2015 12:00 AM

They would not repent, and they wouldn't listen, and they still commit evil in the sight of the Lord.

https://www.youtube.com/watch?v=fyo81tkhf3A


So I wrote to them again, and to all the STATE officials of THE STATE OF WASHINGTON, and the FEDERAL GOVERNMENT. I also made more videos. I told Christians to Stay away from Parties, to avoid the coming disasters, like the Florida Orlando Shooting. I told the authorities that if they refuse to repent, The wrath of God will come in no less a measure on them, than what they have allowed to happen to the people of this community, and to myself.

https://youtu.be/rUh8Ylapk-s April 30th 2016


https://youtu.be/dGsWfe8T8I0 May 20th 2016



Now there are attacks happening all over just as I and others have prophesied.

Governor Jay Inslee Continues to War against God and over rule God, in a coordinated effort by the US Supreme Court. They have made their rebellion against God complete, and their only friend will be the darkness. They will have no one else to comfort them.



See all prophecy videos here: https://www.youtube.com/playlist?list=PLYcXN4at-gEP-ip9CaTYvOZOizb5cJD3K

Active warrants against THE STATE OF WASHINGTON https://drive.google.com/folderview?id=0ByoBFsAn_OgvfkF2ZEZpaHVJZk5Kc0JLV2tvTFNwWVRhS254NEN5akZfbFBLTnJIc3ZuZUU&usp=sharing

Above Arrest Warrants were issued by this court: http://www.courtofages.com/

As instructed here by the court, you may print the arrest warrants and send them to:

US Marshal's Service
Seattle - District Headquarters
700 Stewart Street
Suite 9000
Seattle, WA 98101

Fax: (206) 370-8670

------------------------------------------
US Marshal's Service
Tacoma Courthouse
1170 U.S. Courthouse
1717 Pacific Avenue
Tacoma, WA 98402

Fax: (253) 302-8668

------------------------------------------

US Marshal's Service
Spokane - District Headquarters
920 West Riverside Ave., Suite 200
(PO Box 1463)
Spokane, WA 99201

------------------------------------------
US Marshal's Service
25 S. Third Street
(P.O. Box 1666)
Yakima, WA 90907